DR. KIDBY EXPLAINS DENTAL PROCEDURES
(and she drew the pictures too)

The most common treatments in our general dental office are regular dental cleanings and fillings. Below are some explanations of our more complex services.

Fillings: Fillings are a procedure used to replace tooth structure damage done by dental decay. Generally fillings placed at our office are G-aenial material. G-aenial is a surprising life like white composite that is bonded to tooth structure. Most of our fillings are so life like that you will not be able to find them when looking in your own mouth.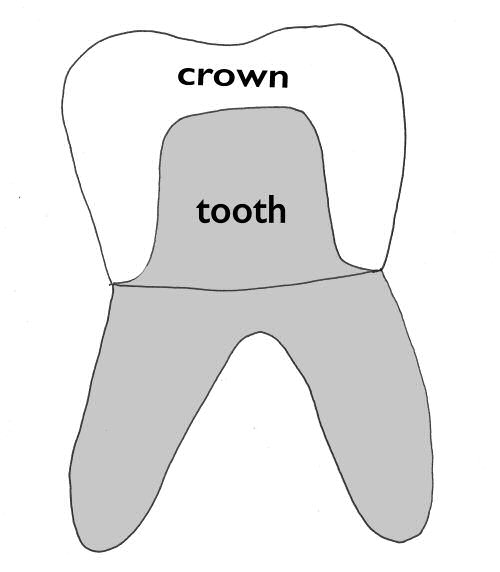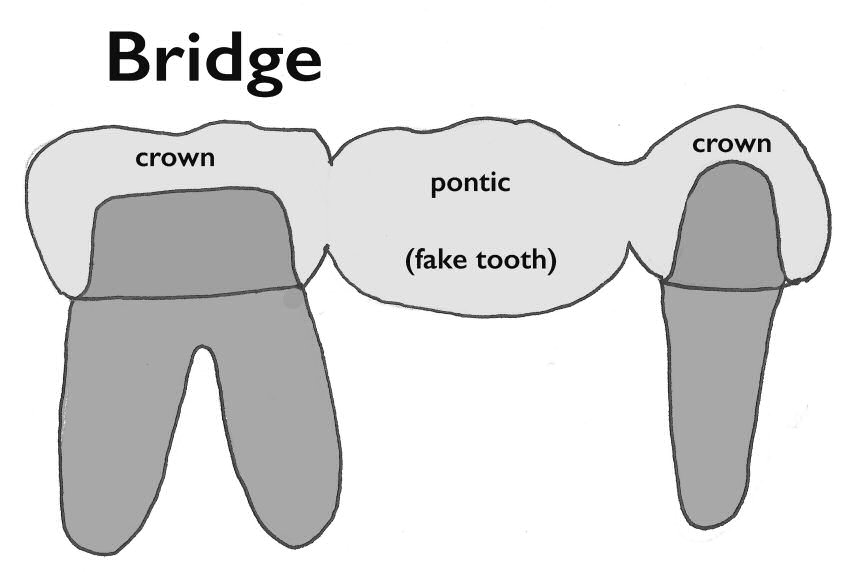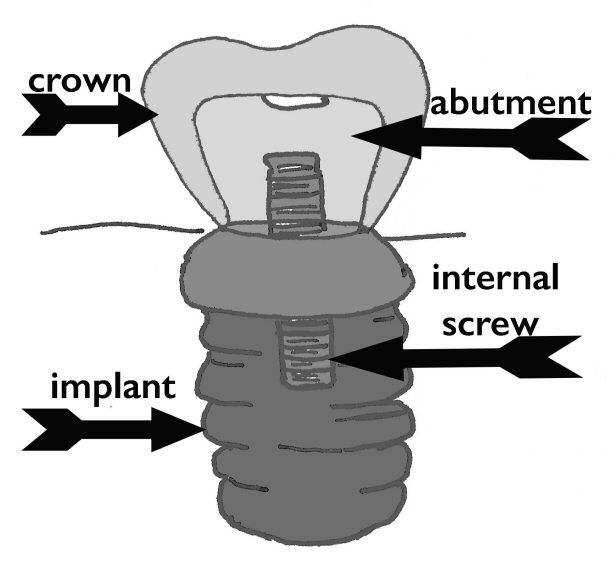 Crown (#1 above): When significant damage has been done to a tooth some times it is necessary to cover the entire tooth with a crown. The tooth is shaped to receive a crown, impressions are taken to have the crown professionally made in a local laboratory. The crown will normally take two weeks to be made. For this short period of time a temporary crown is fabricated in our office. Although there are currently quicker ways to construct a crown, we stand behind these quality crowns made by skilled technicians here in New Mexico.
Bridge (#2 above): In order to replace a missing tooth sometimes it is advisable to construct a bridge. A bridge replaces a missing tooth by suspending a pontic (fake tooth) by two crowns. As always if this treatment is recommended, we will discuss it in great detail before proceeding.
Implant Tooth Replacement (#3 above): We work very closely with local oral surgeons to place implants. The crown and abutment portions of the implant are fabricated for our office. This is an excellent modern restoration of a missing tooth. Another tooth replacement options are removable partial dentures and full dentures which are also offered in our office. Our office also will provide simple extractions and root canal therapy as indicated. An individual treatment plan is worked out for each patient with great consideration for the patient's needs and situation.